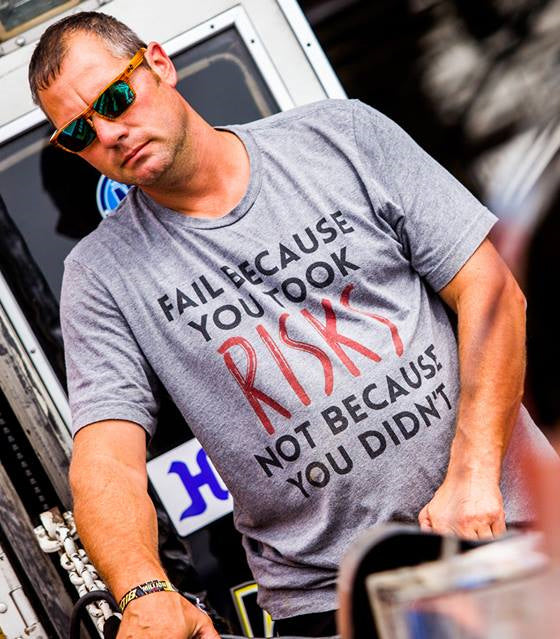 Learn About Jeep
Jeep Van Wormer strives each day to be the best Dirt Late Model driver in the country. To understand his drive and determination, one must comprehend his competitive background. Jeep started out his racing career on two wheels, as he competed in motocross racing for five successful seasons. At the age of twenty-one, Jeep dropped the bike and pursued a college education, which culminated with a four-year bachelor's degree in marketing and business administration.

It was during those college years when Jeep pursued his dream of racing cars. In just four years, Jeep was able to collect two track championships in a Street Stock and eleven feature wins in an Open Wheel Modified. Following his graduation from college, the young Pinconning, Michigan native started a full-fledged Dirt Late Model operation named Iron Motorsports.

Since his move to Dirt Late Models, Jeep is now one of the most popular and successful drivers in the country. The forty-eight year old superstar has racked up numerous big race wins including the $12,000 'Fall Harvest Shootout' at the Quad City Raceway in East Moline, Illinois in 2007, the $7,000 'Illinois Fall Nationals' at the LaSalle Speedway in LaSalle, Illinois in 2007, and the $10,000 'UMP Fall Nationals' at the world-renowned Eldora Speedway in Rossburg, Ohio in 2003. Throughout his Dirt Late Model career, Jeep has been a fixture on the wildly-popular UMP Summer Nationals circuit and has accumulated fifteen feature wins on the tour!

When fully-fueled by sponsors and fans, there may be no catching the #55 Iron Motorsports team in 2023!!!
Fast Facts